Yey! I'm a MX5 owner again, and this time it has a Mazdaspeed badge 8-).
This 2004 Mazdaspeed MX5 was imported to Norway in 2005. After that it has spent a year on the showroom floor at a car dealer in Oslo.
I bought it today after selling my 91 Honda NSX.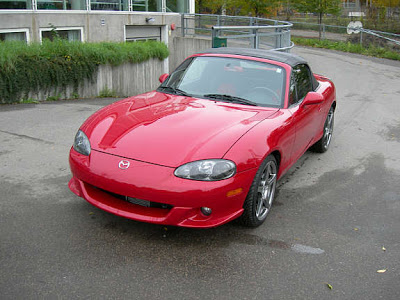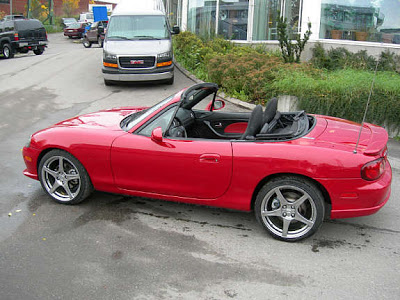 So why sell an exotic supercar like the Honda NSX for one of the most common roadsters of all times ?
Well. I did all kind of research before buying the NSX and found it to be a step up from my earlier 94 NA.
I knew that the NSX had some problems with oil starvation in long sweeping turns and that it has a very tall gearing (except JDM and Type R versions).
The oiling problem is solved with a oil pan baffle and and an accusump. I ordered both these parts from sc****ofspeed.com but they never got shipped in the 5 months i bothered to wait before i canceled the prepaid order.
The shitty experience with one of the last remaining performance shops for NSX, tall gearing and ultra expensive turbo options made me put the car up for sale.
Despite of my bad experience with owning an NSX i think the NSX is an excellent car but it didn't fit my needs for a trackday car. I never got to test it on the track due to the baffle and accusump that never arrived but the gearing would be a big problem on the tight tracks here in Norway (with ACR as the exception).
As a GT car it was superb but it lacked the steering feel and "tossing around" factor I was used to in the MX-5.

The MX5 on the other hand is the perfect car for me. Too bad i didn't realise that before selling my previous car which I had used hundreds of hours and parts to prep for the track.
- cheap repacements parts,
- lots of aftermarket tuning parts
- excelent build quality
- BP eninge with lots of turbocharged potential.
- Superb handling even in stock form.
And for the Mazdaspeed edition:
- It already has a turbo. Legal and everything! With lots of potential.
- It looks nice.
- It has lots of upgraded parts already like souped up suspension, coolingsystem, 6-gear transmission etc.

After driving it for some days now i could not be happier.
For me this is the ultimate MX5 and it far exceeds the NC sport I tried earlier.
After my Mexican fast food order from FM arrives I expect it to be even better :)