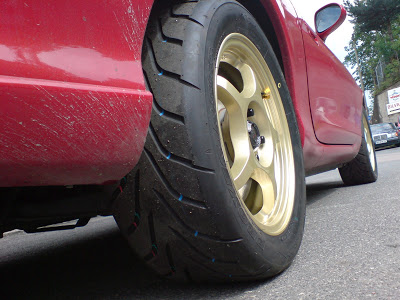 The OEM 17" rims fits the car perfectly but they are said to be very fragile.
As this car will see lots of track days I need another set of wheels with tires more suited for track use. I have earlier had good experience with Toyo Proxes R888 semi slics. They are cheap and have excellent grip on the track. They are also fairly good for daily driving and wet conditions.
When somone at the Club-Honda.org forum was "giving" away brand new 15x6.5 Rota Attack's I had to buy them. Gold might not match the red paint and black top but they are light weight and 15" means I can get cheap tires and even lower unsprung weight than the OEM setup.The setup has the exact same outer diameter as stock but looks smaller on the car thanks to the meaty 50 profile.
This will get better when I get the car lowered some time before next season.
The ride comfort with the new tires are actually more comfy than the OEM tires but noisier.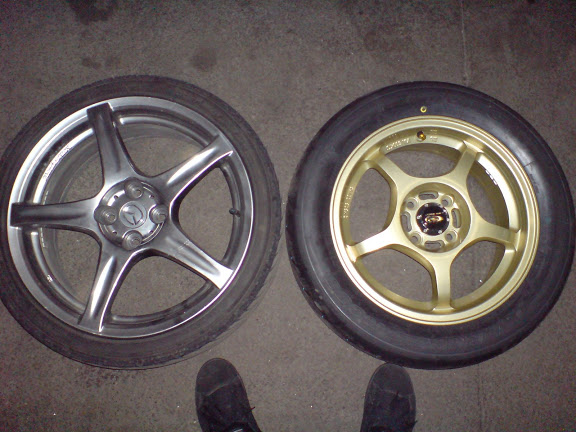 I'm a little bit disappointing how they feel at the track compared to my NA . It sticks better than the stock Toyo R28 tires but the stock suspension cant cope with the extra grip in the same way as the FM springs and KYB AGX did. I'm also running the stock alignment with less camber and 6.5" width instead of the 7" OZ Chrono's I used before.
Can't wait to get the suspension sorted out with coilovers.
Here is a picture of me from a track day held by KARN with the new shoes on, (offroad style...):