The MSM comes with a pretty good suspension setup from the factory. It has beefier roll bars than the 2001 sport and also stiffer springs and custom valved bilstein shocks.
I was really impressed by how these coped both on the track and street. A Good compromise between performance and comfort.

When I switched to semi slics this was not the case anymore.
The extra grip and stiffer side walls is clearly too much for the OEM setup resulting in excessive body roll and loss of traction in transitions. Even the brakes felt different.
The stock setup was clearly tuned for the grip level of the OEM tires.

Something had to be done.
I was very impressed with the older FM springs (Lesjöfors) and Kyb AGX shocks on my previous NA. This time I will hopefully get even better handling with a full coilover setup.
I did some research and ended up ordering JIC coilovers from FM. Öhlins from Godwinracing would have been better but I have read a lot of good things about the monotube JIC's aswell and for $1000 less.
After waiting for about 1 month on a backorder on the JIC's I was contacted by FM where they informed me that they was not able to get in touch with JIC and did not believe that they cold deliver them as promised.
Instead I could get a deal on the brand new AFCO suspension that FM had been developing for some time.
These are not monotube but has 2 way adjustable damping and can be delivered with custom springrates.
As I didn't have a whole lot of other options I ordered these instead with the standard 450/350 lbs springs.

And here they are: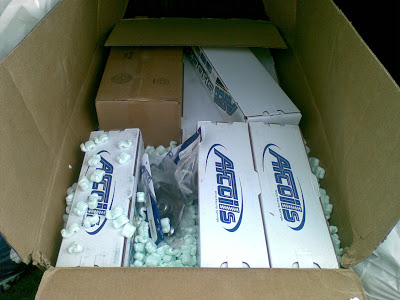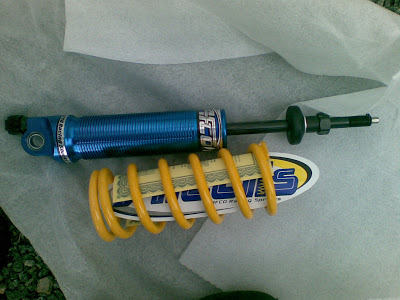 The kit was easy to assemble. For some reason FM don't include a wrench for the height adjustment. I have not found any that fit yet but I'm sure they can be sourced from some other brand or application.
I noticed that one of the dampers did not react to rebound changes an was stuck. After some mailing with FM and AFCO the cause was diagnosed as an internal check valve that needed som pressure to loosen up. It popped right out when I lovered the car to the floor.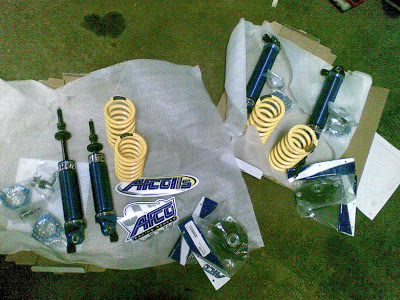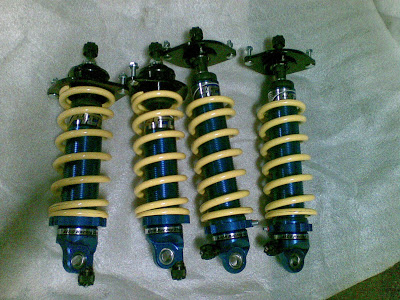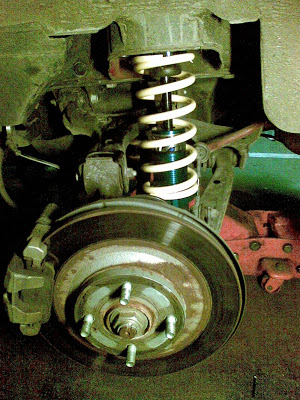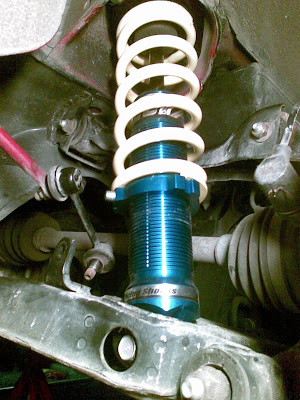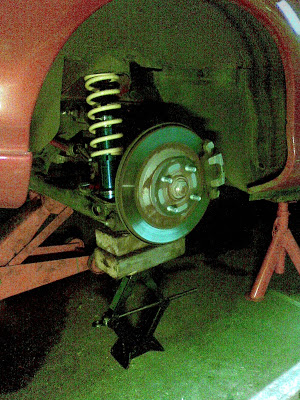 First impressions:
- They are noisy. Lots of ticking and squeeking noises.
- They seem to perform well but the feel softer than the old FM/Kyb AGX combo.
The FM springs was 100 lbs less in each corner. It could be the extra weight of the MSM compared to a NA and that the KYB dampers has internal compression that also act as a spring.

I'm looking forward to the next AutoX. Need to fine tune the ride height. My first attempt at that was on an uneven floor = fiasco. Next time I'll probably just set them to the same height on one axle as the OEM springs.
I think corner weighing is overkill as long as the front bar and bushings are stock.

Pic after lowering: