When I bougth the sway bar from miataroadster.com I also bought a complete set of black Energy Suspension polyurethane bushings that now has been lying around since august.
These are half the price of the FM bushings. Actually at the time of writing FM sells these as well for the same price.
Here is the kit for the suspension.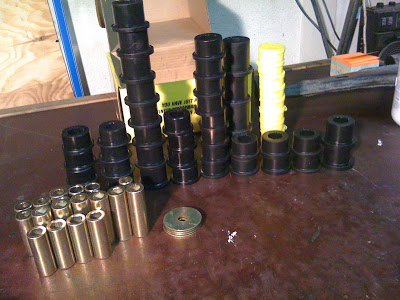 The install is a messy and time consuming job (at least for me). I have done it once before on my NA which was a nightmare as every bolt in the suspension was rusted. Hopefully no such problems on this baby.
The work was postponed a couple of weeks waiting for new parts as the front upper bushings was missing and one of the spacers was shorter than the 3 others: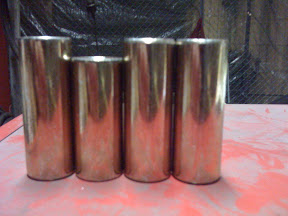 Disassembling the suspension arms went without problems.
Instead of fighting with the rear axle hub nuts I just yanked the axle from the diff with the hub and brake disc on. Saves a lot of time.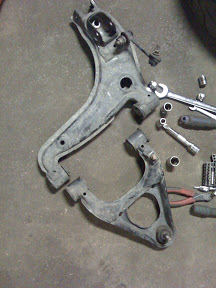 Its more work to remove the old bushings than installing the new ones.
I used a vice and som spacers: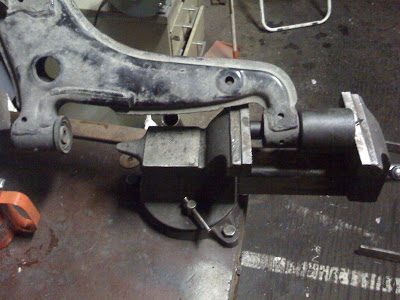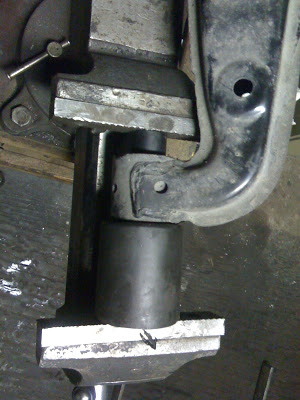 The diff bushings was a lot more work.
The last time I did it I took off the whole diff carrier. Lots of work, PPF must off etc.
FM says it's possible to swap them out on the car by lowering the diff like 10 cm.
I decided to try and actually got the "old" ones out with like 30 minutes of hammering from under the car.
The new diff bushings are really hardcore. The stock and mazdaspeed bushings are still rubber and designed to absorb as much vibrations as possible. The mazdaspeed units got more rubber but you will still have wheel hop. The energy bushings are solid polyurethane which locks the diff to the rear subframe. Hopefully it won't add too much NVH. It's kind of noisy enough in the cabin.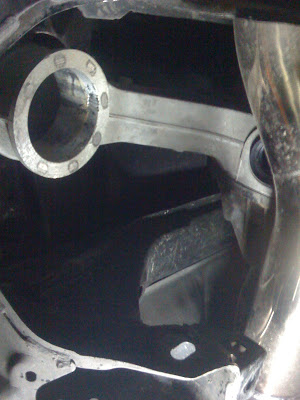 The OEM rubber bushings are being donated to a mx5-miata.no member's 93 LE that is being restored to near mint condition.
I think this mod in conjunction with the new swaybar and stiffer springs will make the car as sharp and tight as is possible without going uniballs all over the place. Hopefully this will shave of tenths on Auto X and on the track.