I have had this lying around since february.  I was convinced that it would be on the car in april but other things took more time than expected.

The "kit" consists of the C38-61 Rotrex unit, magnetic filter, oil, oil-reservoar,  oil cooler and hoses.
Everything is shipped directly from Rotrex in Denmark but I bought it from  http://www.gmcmotorsport.co.uk in Scotland as they gave me the best offer. I also had a long chat with one of the guys working there and got a lot of useful information on mounting and tuning.

To get this on the car I need to:
- Fabricate a bracket
- Mount my PWR intercooler + hotside piping
- Purchase and mount a Synchronic WG (fastest acting) on the piping for boost control
- Mount my Synchronic BOV for bypass
- Find a place for Rotrex oilcooler and reservoar.

The bracket will be the biggest challenge.  I have done som preliminary cad work but more on that later.

Some pics.
Contents of big box.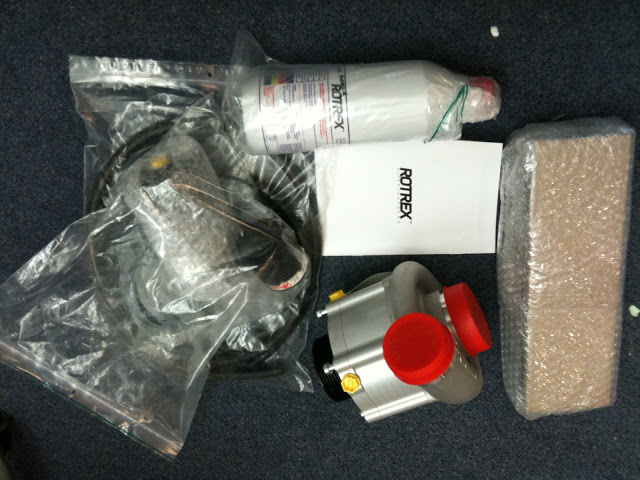 Rotrex compressor unit.  It comes with a 8-rib pulley but I'll use it with a 6-rib ATI-pulley. Hope that works without belt slip.