I ended up with yet another MX-5.  This time a 2006 NC 1.8.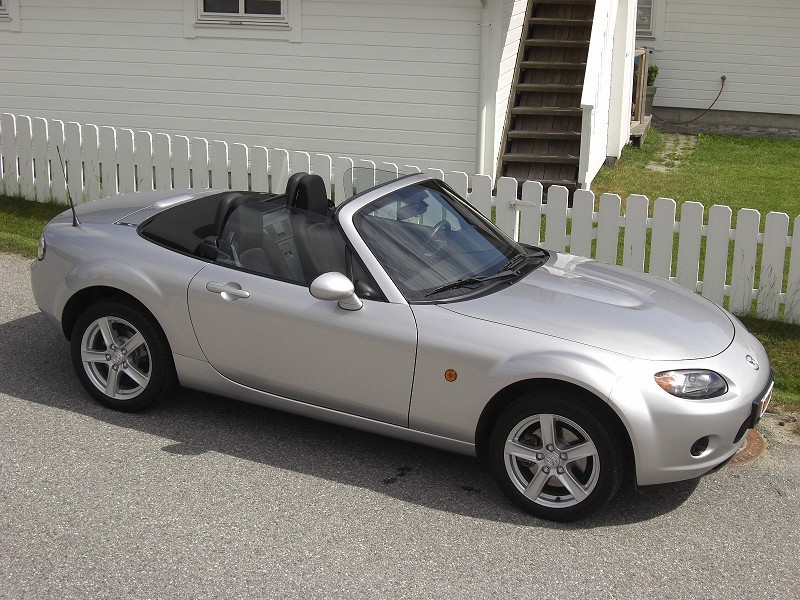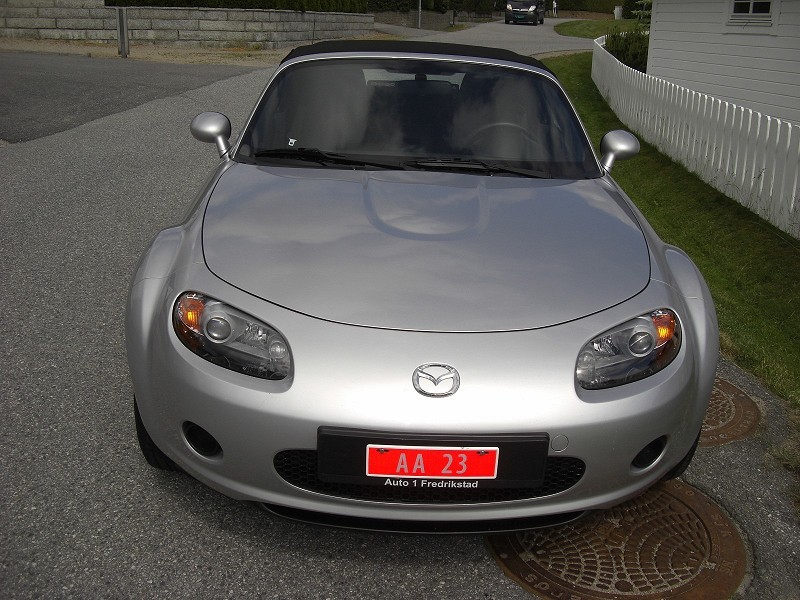 It's probably the least exclusive edition of them all.  No leather, no AC, no heavy PRHT, dull 16", offroad suspension, 128hp eco bonanza commuter engine, cheap, excellent condition.
In other words,   PERFECT.
Why ? Because none of the standard stuff will be used anyway.  Lession learned from the MSM where all the stock fancy stuff ended up on a shelf swapped out for other go-faster-parts when the stock rached its limit.
First impression of the car is very good. It's actually a proper usable car in stock form. Very solid interior build and quality. Stock suspension is a joke on track. Body roll is excessive and reminds me of my Jimny.  Stiffer sway bars would do wonders but a drop and stiffer springs are essential. Caster feels ackward when sliding on the wet (track).  Keeping it sideways requires more precision than the NA and NB. Wider steering angle is nice though.
Brakes feel weak at first on track but are more than enough to handle the 1.8 and probably the 2.0 as well with some pads and fluid.
Engine is dull on top but quite torquey. 1.8 feels restricted on top. Gearing is ok but I miss the close ration 6-speed from the MSM on track. Softtop and mechanism is very good. Seats are confy and supportive but are mounted too high.  Rack can be adjusted which is good.  Stereo is decent. Handbrake are on the "wrong" side of the tunnel which is ackward.  Car is very stable at speed. There is however more road noise that expected.  I wonder if later cars have more sound damping behind the seats as this seems to be the source.  Head lights are on par with the MSM (which are very good). Design is questionable. Hard to tell when it has the stock offroad look and rims.  I like the front better than the 2009+ which looks like a Mazda6.  The "flares" are nice and probably the only aggressive design feature on the NC imho. Dual exhaust tips are wrong on anything other than an engine with two cylinder banks.  A-pillar is twice as massive as the flimsy NA/NB.  Feels safer. There is actually a steel rollbar hidden under the plastic covers behind the seats. Windblocker works and doesn't look like underwear. There are 3 small compartments behind the seats/speakers + a slightly bigger trunk which is practical for future Nürburgring trips. 
Planned upgrades:
Engine:
 The 1.8 and 2.0 NC engines are known for weak rods and non forged crank.  There have been numerous failures with the Cosworth SC at only 200bhp.  Mazda upgraded both the crank and rods in the mk3.5/NCFL in 2009, probably for the extra 500 rpm limit.
My solution is to swap out the 1.8 for the US Mazda6 2.5L .  It's physically the same size engine but 11mm higher block, other intake port shape and a balance axle on the crank.  It will be bolton using parts from the 1.8. This engine has forged internals and should be ok for a reliable 300hp using a Rotrex :) . My goal is to keep the engine bay stock looking (see pic).  Mazda included a lot of plastic covers to cover up upgrades and a very good non restrictive intake solution which I'll keep.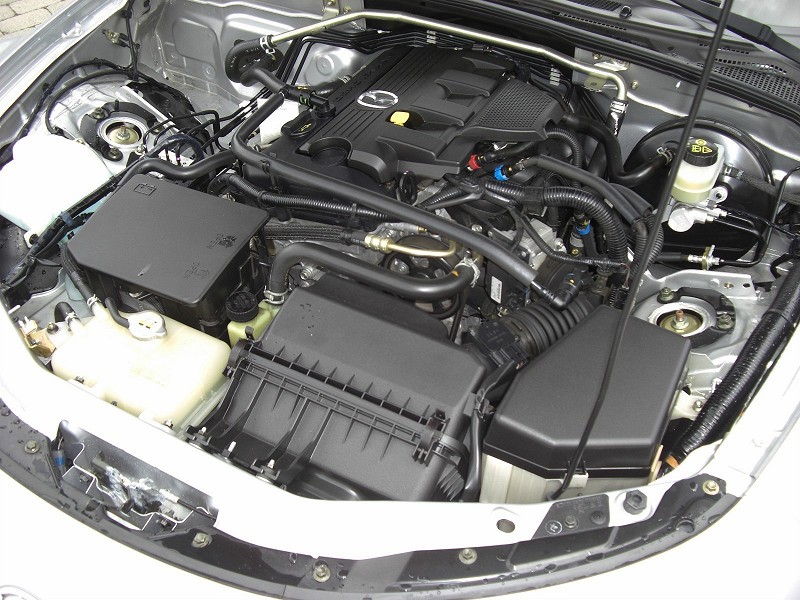 Interior:
 Bucket seat. At least on driver side.  The stock seat are very confy with excellent side support but no compatible with 6-point harness and HANS.  No heavy AC to remove.  Proper rollbar. There are currently no real rollbars available for the PRHT version since the mechanism uses all available space behind the seats but several options for the soft top. I will go for the HardDog M3 sport with harness bar. Stock steering wheel and gear knob as these items looks to be ok.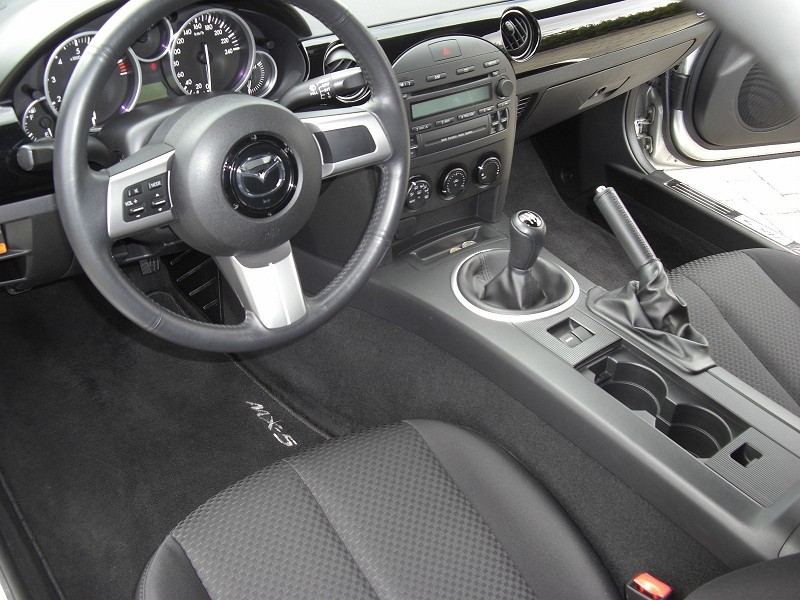 Exterior
: All stock for now.  Goodwin has an interesting looking trunk spoiler and splitter that might be of interest if they actually create downforce.
Wheels:
The 9" on the MSM was the best upgrade I ever did for the track.  That's why I'll be running 9x17 ET35 RPF1.  NC got more space in the wheel wells than the NA/NB and can fit 245/40-17 with some roll on the rear fenders. I would like Toyo R888 but are tempted to try Federal RSR.  Not as good as R888 but a lot cheaper in that size.
Suspension:
  KW Inox variant 3.  I would have liked to run Öhlins DFV as on the MSM but I need TÜF certification. A 70mm drop will make it look normal. What were Mazda thinking: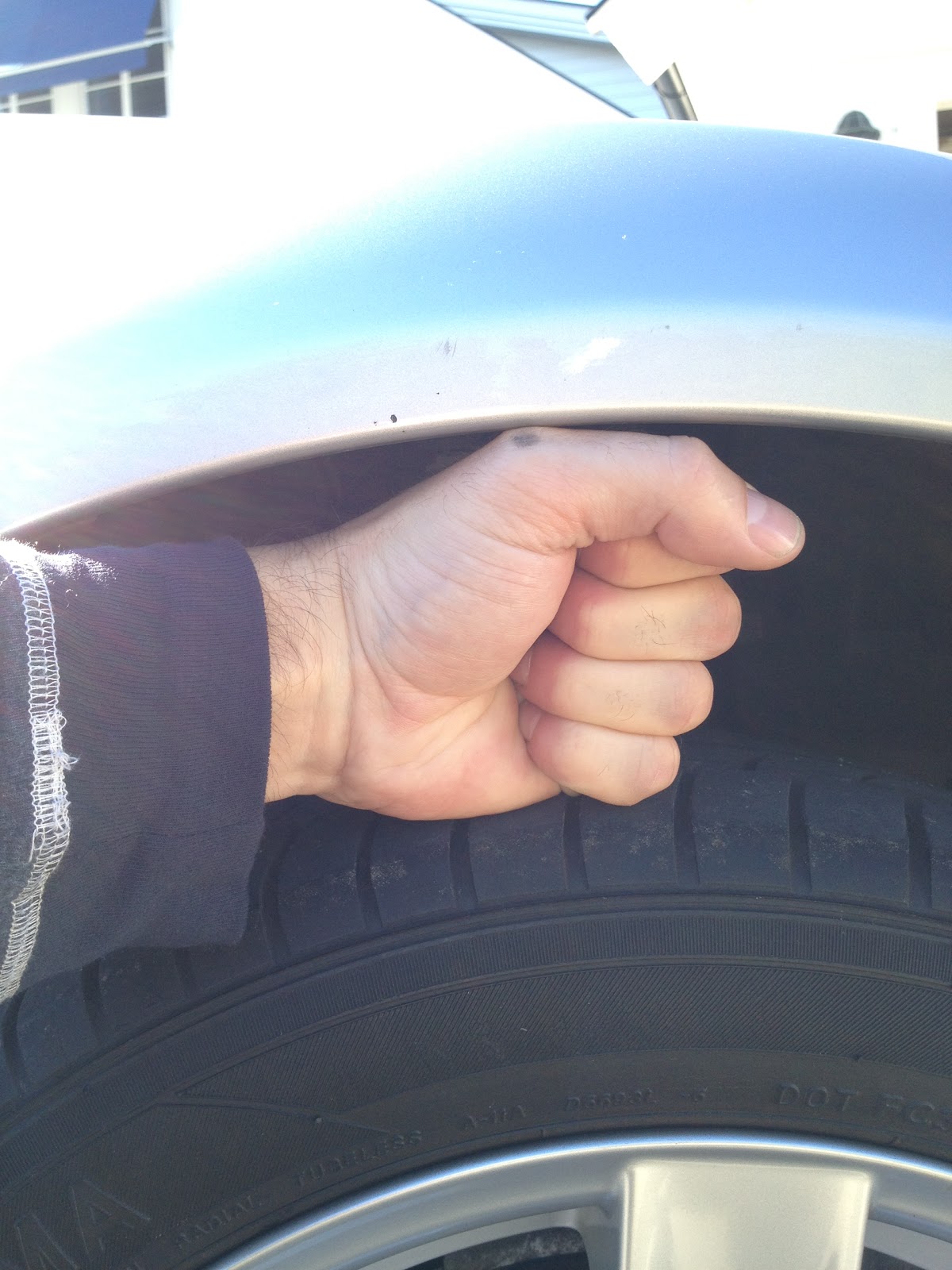 Electronics:
 Both ECU Tek here in Europe and Sniper got solutions for remapping the stock ECU which is very capable unit with WBO2 and advanced knock control.  The problem is that you can't edit ECU parameters on the fly like an aftermarket ECU.  To safely change the map you need to connect a 12v power source while the car is stationary and reflash the whole software.  Useless for road tuning. Even on a dyno the process needs to be entirely based on datalogging and not live data which makes for long iterations. I'm still considering the ECU Tek reflash just to get rid of the laggy tip-in behaviour of the electronic throttle body and free up som ponies on top where the 1.8 falls flat on its face.
I still got the Adaptronic and ID1000 lying around and there are at least one documented parallel install.
What I really want is to use the new AEM Infinity ECU but It is yet to be released.
Exhaust:
2.5". Probably GW or FM midpipe.  RB or GW header based on primary OD for later SC use. Backbox will be silent.
Intake:
Plastic manifold won't fit the 2.5 and are known to bee leaky at boost.  Jenvey have a nice plenum and a modular head-to-manifold adapter but $$$ .  I wish to use the stock 2.5 65mm electronic TB if possible.
I'll write a post soon where I compare the NA/NB to the NC with a lot of pics.