Racing Beat 1.250" front sway bar. I like it..
I miss the sharp feeling my NA had with the KYB agx shocks and FM springs.
I was certain that the AFCO's would make the MSM feel as good or better but it still feels loose even with the low profile R888 on the 17" rims.
The NA had stock sways which were a lot softer than the MSM sway so I'll be surprised if thats the reason.
The other possible cause is the bushings, but they are as good as new 2004 17K miles rubber.

Since installing new bushes is a PITA and takes (me at least) forever to do I will try the fattest sway bolt on sway bar I can get hold of in hopes making the sharper.
Currently this is the 1.250" tubular Racing Beat sway bar.
This will make the car under steer more, but as it rides now that could be a good thing.
I ordered it with both the reinforcement bar (the white on in the picture) and the blocks for stabilizing the stock sheet metal sway bar mount.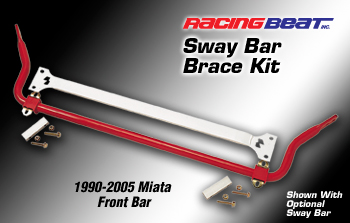 This is what the bar looks like: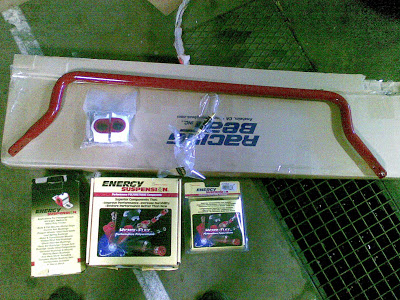 Pretty beefy compared to the stock one.

Installation should have been easy had it not been for me routing the oil lines for the oil cooler under mounting bracket.
The support bar was not possible to fit on a MSM due to the IC pipe interfering. I might have been able to modify things to fit but I was so pissed off and tired after fighting with the oil lines and the support blocks.

The first test drive was very promising. I immediately felt a difference in the steering. It was much sharper than before and body roll was close to none.
This really worked. I can't wait for the next auto slalom or trackday. Transitions feels much more controllable. Since I have been testing on publicroads I can't say how it has affected over/under steer. I will know for sure next trackday @ Rudskogen