It's alive, GT3071R that is...
After 6 days of hard work in the garage the car is back on the ground.<div>The test fitting and routing of hoses took ages. Since the ETD manifold has the WG under the turbo there is limited space for the oil and water lines if they are to be routed away from the glowing turbine housing.</div><div>
</div><div> </div>
Also the copper plated manifold nuts from miataroadster is crap . The manifold has limited space fastening the lower nuts and requires an open ended combination wrench which rounded two of them.
Routing of the braided oil supply line also took some head scratching. The line is 3 Ft and to ensure that it would not rub or look stupid I had routed it down below the motor mount.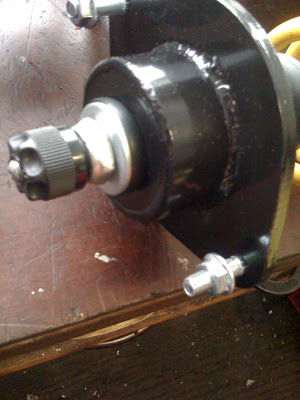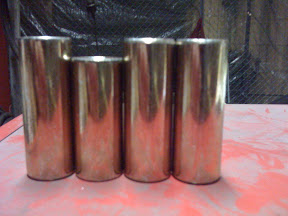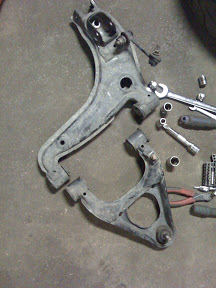 The preliminary Dp/exhaust is extremely loud and ghetto. A 3" straight pipe is loud but a 3" pipe ending by the transmission reflecting the sound down under the car is louder…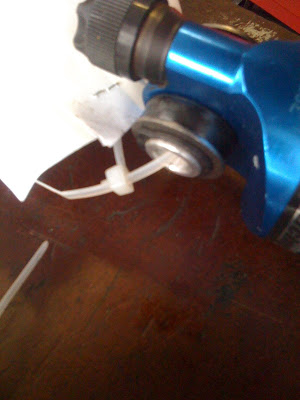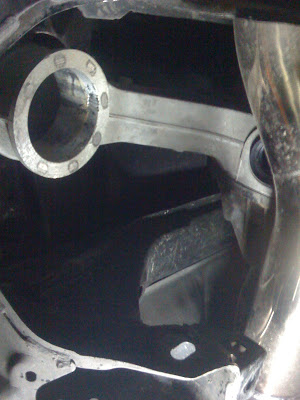 I had a short testdrive just to check if there are any issues with oil/water lines and heat.
Since I don't have any O2 sensors I had to disable both closed loop and auto tuning in the ECU to prevent it from leaning/drowning itself to death.
As I mentioned the noise from the exhaust was too much. That didn't stop me from flooring it a couple of times and all I can say is, WOW.. The WG is controlled directly from the vacuum source so the spool can be improved with the EBC. Once the pressure builds in 2. gear there is no traction and a intense scream from the open WG. Very promising :) I didn't try any more boosting in higher gears as the map is probably way off with this turbo.
I got limited time the next week to work on the car but I'll try to at least get hold of some 38mm piping for the WG.   Hope to get WG and DP pipes welded before May starts.